Pijin Neji + Ai Mieda + Taisuke Shimanuki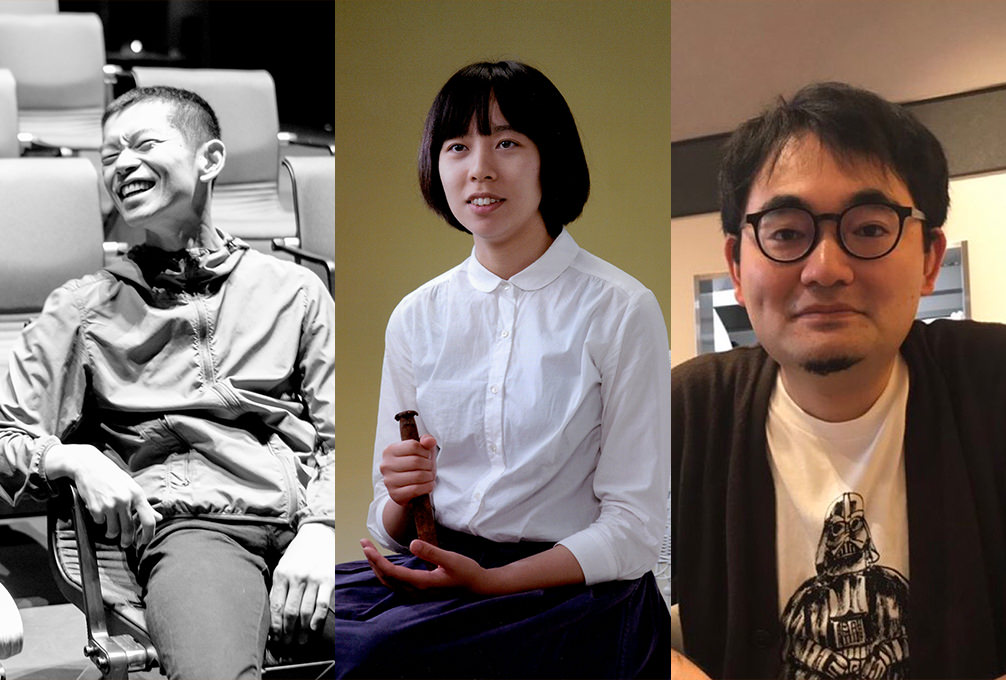 (Left) ©島崎ろでぃー
Pijin Neji + Ai Mieda + Taisuke Shimanuki
Japan/Dancer, Artist, Editor
An artistic collective with Pijin Neji (dancer and founder of "neji&co." – born in 1980), Ai Mieda (artist – born in 1991) and Taisuke Shimanuki (writer and editor – born in 1980). Neji's performance has its basis in the embodiment fostered by Butoh. Mieda's art work seeks for a means of re-connecting us with the forgotten objects through the historical trail and the concreteness of them. By intertwining both, the collective pursues a new creation in both forms of performance and exhibition.Recent works by the members of the collective include, "City III" (Kyoto Art Center, January 2019) directed and performed by Neji, where Mieda contributed with the art works and as a performer, and Noriyuki Kiguchi's solo exhibition "Off the Dramatic Passions " (Kanzan Gallery, July 2016) curated by Shimanuki, where Neji contributed with the performance of the same title as the exhibition.
2020 project
Research and practice on funeral rituals and remains of graves, as well as historic sites of High Treason Incident for creation of "Antigone" (working title)
KAC Performing Arts Program 2018 / Contemporary Dance "City Ⅲ" ©Kai Maetani
Collective research project by Pijin Neji, Ai Mieda and Taisuke Shimanuki for the creation of performance "Antigone" (working title). Revolving around the Greek tragedy by Sophocles and High Treason Incident that took place in Japan between 1910 and 1911, they have been conducting research on the subjects such as nations, family, individual, land and ceremony for the dead. It is an attempt to reframe the contemporary relationship between the "land" and "ceremony for the death" by connecting a masterpiece of Greek tragedy and the real event that happened during the process of Japanese modernization.
The members have conducted research on the remains of graves and historic sites and organized seminars with the experts on continuing basis since 2019. At this residency, they will put the results of their past research in order and experiment to find the best form of presentation, aiming to realize it in 2020 or later. Neji and Mieda will hold workshop and talk session about the burial, where they will share the results of their research and vision for the future with participants.