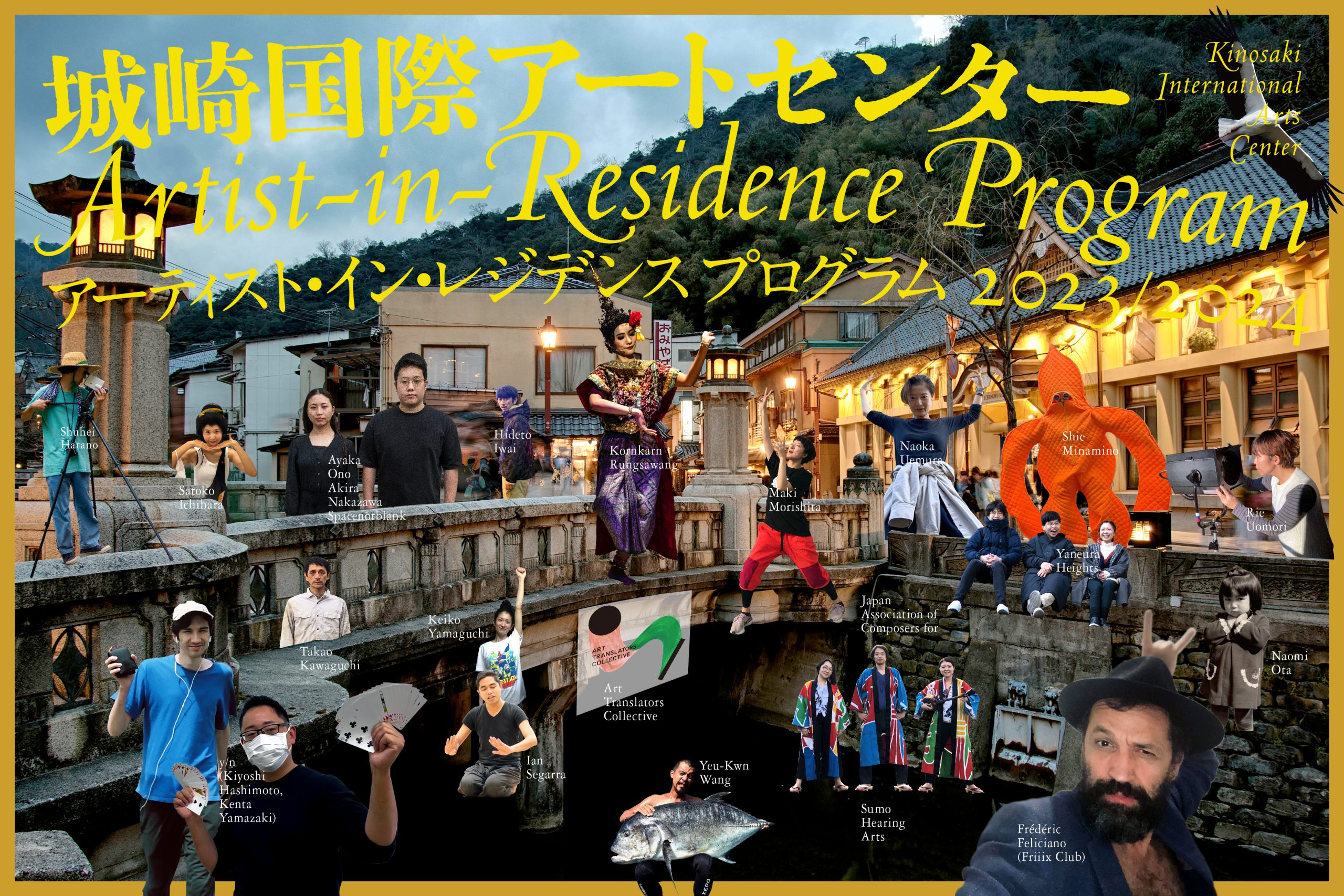 Art Direction & Design: Takuya Tsutsumi
On the Artist-in-Residence (AIR) Program 2023/2024
Kinosaki International Arts Center
2023.3.16
Continuous questioning about the relations

In the tenth season from its opening in April 2014, KIAC will welcome 16 groups of artists for its "Artist-in-Residence Program". From the annual Open Call in spring, we selected 12 groups from the 51 applications from 15 countries. For the "Co-operation program", a Taiwanese choreographer Yeu-Kwn Wang will be invited as a recipient of KIAC prize at the Yokohama Dance Collection 2021 - Competition I. For the "Community program", where artists continue to work with the local community for more years, Naomi Ota, Japan Association of Composers for Sumo Hearing Arts (JACSHA) and Shuhei Hatano will continue their research, exchange and creation, already started in the season 2022/2023. In addition to these programs, we expect to collaborate with the Professional College of Arts and Tourism and Toyooka eater Festival 2023 in September.
AIR generally requires the mobility of the artists. Artists would visit and stay temporarily in Kinosaki and Toyooka to work on their creation or research, and that generates new relationships. In other words, AIR is a program to keep questioning the relationships between the subjects involved and to monitor them over and over. Since the opening, and also at this moment, the society which we all belong to is constantly changing. e contemporary arts expression is an exact mirror of this society. For the tenth season, in line with the criteria of the project selection: "response to the society" and "critical creativity", we will pay even more attention to the relations between different subjects, for example, between the society and artistic expression, the past, present and future, individuals and groups, or community and artists.
■Message from the Artistic Director
Performances created in KIAC should not be irrelevant to you. ese creations come into the world as a reection of the society we belong to today. ey may raise questions to the society or help us look at the overlooked part of the familiar subjects that we seem to know well. I started to watch performing arts in the local theater when I was a high school student. ere, I had a chance to discover the capacity of imagination of others that was totally beyond my imagination. And at times when I found something intimate that I tended to keep inside myself was addressed on the stage, I was stricken by a mix of emotions including fear and joy, to the point that I came up with something that I have never thought of. "e world is more than what is represented here now". I often found that in the theater, and when I went back home, the familiar landscape around myself started to seem dierent. Not only for me, I believe that these experiences are necessary for everyone. Here, every artist will make their trial-and-errors, carried by some kind of foresights. To witness that process has dierent richness from watching the completed performance. I look forward to witnessing a wide range of fruitful encounters at KIAC, and I wish that as many performances created here may bring light to the world.
Satoko Ichihara
Playwright, Director, Novelist, Artistic Director of Kinosaki International Arts Center
---
【Open Call Program】
■About the Open Call
The call
for applications was open from May 1 to June 17, 2022, and 51 applications were received from 15 countries. A selection committee was held in July, and after interviews with each artist and schedule adjustments, we decided to adopt 12 projects.
■Selection Committee
Satoko Ichihara (Artistic Director of KIAC, Playwright, Director, Novelist, Leader of Theater Company Q)
Tadashi Uchino (Professor at Gakushuin Women's College, Performance Studies)
Chieko Kinoshita (Art Producer, Associate Professor at Kaitokudo for the 21st Century, Osaka University)
Kazuki Fujita (Performer, Dance Researcher)
Reiko Shiga (Director of KIAC)
Yuichiro Yoshida (Program Director of KIAC)
Maki Hashimoto (Community Collaboration Director of KIAC)

■Selection Criteria
≪Response to Society≫=Is the artist or project responding in some way to the current society and environment in which we live through their artistic activities?
≪Critical Creativity≫=Does the projects have the potential to critically examine existing values and common sense, and to update them in terms of art?

■Selected Projects
=====
Kornkarn Rungsawang
Dance offering
A Thai dance artist of the new generation who ties the tradition and the contemporary dance, Rungsawang will offer a hybrid performance based on the rituality of the Thai traditional dance, by integrating animation and digital technology such as AR (augmented reality) and VR (virtual reality). A space for worship and exchange shall be realized, like a reflection of desire and hope of the audience of today.

y/n (Kiyoshi Hashimoto, Kenta Yamazaki) & Kento Terada & Hanako Wada
Creation Camp "Gender and Sexuality" by three groups of artists
Creation camp by three groups of artists, who have committed to creating documentary works concerning gender and sexuality. Each artist will work on their own work that deals with the themes such as "education" or "dialogues", and they will have moments of exchange and reflection with others, in order to have diverse observations.

Takao Kawaguchi
BARA-IRO Dance Project
Atypical dancers Takao Kawaguchi and Mikiko Kawamura confront Butoh with chaotic aesthetics provoked by "Rose-Colored-Dance [Bara-iro Dance]" (1965), a representative work of the early period of the founder of Butoh, Tatsumi Hijikata. In the second year of this long-term project, along with the Butoh dancer in his eighties as well as young dancers in their twenties, they will give an impulse to a sense of stagnation in contemporary society with their shooting brightness.

Frédéric Feliciano / Friiix Club
Birdy
Frédéric Feliciano, a French contemporary puppetry artist based in Bordeaux, will work on his new creation on the living juvenile offender who stole airplanes. Can he become a popular hero? Inspired also by the Japanese manga, this crazy but delicate puppetry performance will be dedicated to the teenagers.

Shie Minamino / OSUSHI
"Wedding" - Present / Absent / Work-in-progress -
A performing arts group "OSUSHI", founded by the costume designer Shie Minamino, will create a participatory performance by replicating the form of the wedding ceremony in contemporary Japanese society in "Romeo and Juliet". "Oh Romeo, why are you Romeo? Disown your family and refuse your name, and I will do the same." What is the 13-years-old girl negotiating for…?

Ayaka Ono Akira Nakazawa Spacenotblank
New Creation "Words and Shakespeare's Birds"
"We will start creation at KIAC a year from now."
Having spent one year since the notice of this appointment, the team members will nally encounter each other in Kinosaki, with their words, bodies and time. Ayaka Ono Akira Nakazawa Spacenotblank, who continues to explore the new forms of performing arts, will start its creation on the subject of a group of people and words, and the relationships with each other.

Rie Uomori / kehaiworks
Heating lights for heating darkness / Research project on darkness
Black darkness in a theatrical space, red darkness of a darkroom, white darkness in the snowstorm.
Rie Uomori, a lighting designer with interest in the multidisciplinary research on light and shadow, will conduct research and practice on site about "darkness". In the Onsen streets of Kinosaki, she will search for how to positively approach the "darkness", which is often avoided in urban life.

Yaneura Heights
New creation : 8th Floor performance "Table Manners" (tentative title)
Yaneura Heights with its director Daichi Nakamura, will work on the creation of a new full-length performance after two years. As they have done in "Paradise" (2021), they will continue to pose the question: "What is the ideal community?" By setting the scene in a shared house, they will examine the communities without any geographical or blood ties and their future in the contemporary society.

Keiko Yamaguchi / BRDG & Ian Segarra / PETA
New Creation
Collaboration between a Kyoto-based theater group BRDG and a Manila-based theater company PETA (Philippine Educational Theater Association). Based on an existing community cafe in Kyoto, after their research in Japan and the Philippines, the piece will portray a possible community created by the cafe and people who move between different countries.

Art Translators Collective
Art Translation Party : Game Production Project
A team of interpreters and translators specialized in contemporary art, Art Translators Collective will communicate and share the potential and creativity of the translation process in the arts. As well as developing games to share the experience of the translation process, they will organize round-table sessions and workshops, in order to present its value and importance in the creative environment and society.

Maki Morishita and Naoka Uemura
Running women, searching women. - research on how to archive a performance with the performance "Running women" - (tentative title)
In 2013, Mika Kurosawa, the deceased "godmother" of Japanese contemporary dance, created "Running women" with the choreographer and dancer Maki Morishita and Naoka Uemura in the scene. After ten years from its premiere, by recalling the performance in their bodies, the two dancers will explore how dance performances can be carried on in the years to come.

Hideto Iwai / hi-bye
New Creation
Hideto Iwai, known for bringing up the social issues he has experienced, such as hikikomori or domestic violence by father, will create his new performance. Monologues told by skilled actors will wittily point out the sufferings of the young people in the current society.
=====
These 12 artists and projects were selected as the "Open Call Program".

【Programs other than the Open Call Program】
In addition to the Open Call Program, the following programs are scheduled to be implemented.

=====
■Community Program
Programs that artists are involved in research, exchange, and creation with the local community over a multi-year period starting from 2022/2023 season.
Naomi Ota
A Walk Through the Space-Time Continuum "in this house"
An installation artist Naomi Ota will walk around to meet the residents of Takeno Town, with "Omoto"', an anthology of stories published by the local community. With the words and memories of the people and landscape collected in the community, she will weave short stories. The text written in the season 2022/2023 will take the form of a narrative performance during the residency in 2023/2024, and it will be finalized in 2024/2025.

Shuhei Hatano
Between Sea and Mountains
Filmmaker Shuhei Hatano will create a lm that documents a rich natural environment and local culture around the San'in Kaigan UNESCO Global Geopark. Hatano will meet local residents to tune into the ow of the time of the land and to listen to the voices of the drifting atmosphere during his feildwork.

Japan Association of Composers for Sumo Hearing Arts (JACSHA) |
Music Workshop + Takeno Sumo Jinku Fanfareggae 2023 Concert (tentative title)
Japan Association of Composers for Sumo Hearing Arts, a group of composers who create innovative arts by listening to Sumo (Sumo Hearing), will work on their composition "Takeno Sumo Jinku Fanfareggae"(2018) created by integrating the reggae elements in "Takeno Sumo Jinku". ey will organize workshops with children to recreate the piece, which will be presented in a concert in Toyooka.

■Co-operation Program
Programs implemented in collaboration with domestic and international arts organizations
Yeu-Kwn Wang and Danang Pamungkas
A Quest for Relationship: Island of __
A collaboration project started in 2022 by Tainwanese choreographer Yeu-kwn Wang and Indonesian dance artist Danang Pamungkas. In this dance performance, they will explore the appearance of the cultural heritage that dwells inside their own bodies, through the intercultural dialogues and interchanges on the question: "Who am I (we)?"

■Activities of Artistic Director Satoko Ichihara
The "Satoko's Room" series, that Artistic Director Satoko Ichihara and KIAC members serve as hosts, welcomes a variety of guests each time and opens a forum for dialogue on a variety of themes.

■The Other Programs
-Acceptance of theater production students from the Professional College of Arts and Tourism.
-Programs for the Toyooka Theater Festival 2023, a performing arts festival held in the suburbs of Toyooka City.
=====

The residency programs by the above 16 artists and projects, as well as related programs will be carried out.
We hope that you will continue to pay attention to the activities of Kinosaki International Arts Center in 2023/2024 season, the 10th year since its opening.


March 16, 2023
Kinosaki International Arts Center